Guilt-Free Indulgence – N'awlins Swerve Bread Pudding Recipe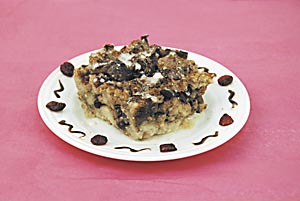 To many people, the challenge of eating right is discovering ways to make healthy foods taste delicious. It's especially difficult to find desserts that sate your sweet tooth without packing on calories laden with fat and sugar. Wellness expert Catherine Wilbert, owner of Vitality Juice, Java and Smoothie Bar and The Nutrition Company (4350 Hwy. 22, Suite H, Mandeville, 985-727-3482; www.thenutritioncompany.com), focuses on helping people make sure everything they put in their bodies is nutritionally rich — and delicious.
"We have a whole section of pastry and baked goods, (and) sugar-free king cake," says Wilbert, who is a doctor of naturopathic medicine, a nutrition consultant and has won three national body building championships and numerous other titles. She also is author of the new book Mending Your Metabolism
One of her tools is Swerve® sugar substitute, which she created as the founder and product developer of PhytoCeutical Formulations and Wellness Innovations. It is available at her store as well as grocery stores including Whole Foods Market and Rouses. "It's allowed us to make over everything," she says. "It's the only no-sugar product that tastes, cooks and everything like sugar. It has no calories and no glycemic index — and it's 100 percent natural. Now, instead of making things over to be just a little less bad, we're making them over to be healthy."
Here she shares a revamped recipe for a New Orleans classic dessert: bread pudding. "It's diabetic friendly, it's made with whole-grain bread, soy milk, walnuts, cranberries. Everything about it is good for you."
Plus, it tastes as decadent as versions with twice the calories and fat and lots of sugar. "You can teach people all day long to make good food choices, but they don't want to give up their indulgences," Wilbert says. "Now we can make over indulgences so they taste good but aren't bad for you."
Traditional New Orleans bread pudding has about 415 calories and 20 grams of fat, she says, compared to the following recipe, which has 207 calories and 11 grams of fat per serving, and no sugar.
Visit Swerve Sweetener for the recipe.