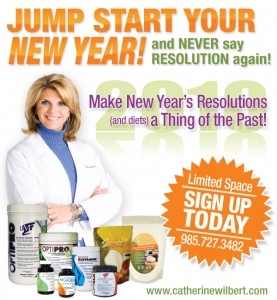 Seminar with Dr. Catherine Wilbert
Doctor of Naturopathic Medicine, Nationally recognized Wellness Expert
Learn the small changes that will produce big RESULTS!
Hear what you can do to have more energy, live with vitality and keep off the pounds!
Learn how to read and understand tricky food labels and recognize false claims.
Get honest advice on dining out, recipe makeovers, maximizing your exercise programs and more
Dr. Wilbert will also answer all your questions about Weight Management…and much more!
Wednesday • January 13th, 2010
6:00 pm – 7:30 pm at The Nutrition Company
4350 HWY 22 Suite H • Mandeville, LA 70471
$10 Registration Fee call

985.727.3482

to register (Hurry Limited Space)

Seminar attendees will receive

10% OFF

all supplements purchased that night.